Multitude Mondays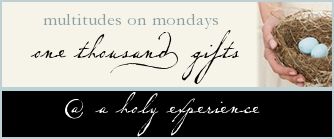 I
am counting my gifts, continuing to find the beauty in the simple things in life.  For me, it has not been easy to see my gifts in the mundane or routine that has become my life.  I have really had to seek it out.  God is reminding me that He hides beauty for me to find every day.  I continue to pray that He would open my eyes to see.  I want to continue seeking and finding the beauty that is so simply displayed all around me.
T
oday, I continue counting:
11.  A son who gives kisses freely, even when I don't deserve them.
12.  Perseverance during the tough times.
13.  The light rain that reminds me of God's gently cleansing.
14.  God's provision to get my SUV fixed.
15.  My son's sweet confession during Sunday School today.
16.  Blooming flowers that remind me that Spring is coming.
17.  A husband who loves to cook.
18.  A house full of chaos mixed with moments of joy and laughter.
19.  The wisdom to make good choices.
20.  Pants that are a little looser.
21.  Clean sheets.
22.  Disney princess movies.
23.  Children who are on fire for God.
24.  The freedom to worship God.
25.  The sound of my children laughing and playing basketball together.
You can link up your list of 1,000 gifts at A Holy Experience.