Seeking Beauty – Multitude Mondays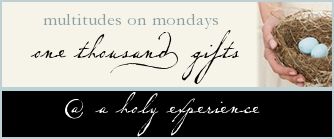 I
am continuing to find beauty in the ordinary things that surround me. Jesus said, those who seek Him would find Him.
And you will seek Me and find Me, when you search for Me with all your heart. (Jeremiah 29:13)
B
eauty is not always "staring me in the face". I have to look for it, diligently seek it out. Are you asking God to open your eyes to the beauty that surrounds you today?
26. The calling of the Doves outside my window this morning. We used to have Doves at our house every year. When we had to sell our home and move, I wondered if we would see them again. I cannot say that these are the same Doves, but it gives me hope that God has not forgotten us!
27.
Days when I can stay in my jammies and not have to rush
. And this is why I love Mondays!
28.
The patience of my husband when I am on overload
. I can tend to get agitated very easily. My husband is a steady rock and I am so thankful for the way he loves me.
29.
The sweet and gentle presence of the Lord that comes in to calm my spirit
. In my times of agitation, the Holy Spirit has a way of gently reminding me of who and what I should be focusing on.
30.
Dirty dishes in the sink
. It means my children are eating well.
31.
At least 30 pairs of shoes in the basket at the base of the stairs
. It means we do not have to go barefoot.
32.
The sound of traffic on the busy street behind my house
. It means that people have jobs to go to, and gas for their cars despite the rising gas prices.
33.
Fair Trade
, and the way it helps provide a living wage to women rescued out of human trafficking.
34.
Coffee
. Have I said this before? I am so thankful for my morning cup of Joe!
35.
Laundry
. How many posts have I mentioned my dislike of laundry. Learning to find the joy in it. Although it is never ending in my house, it reminds me that we have clothing to wear.
What are you thankful for? Link up at the Holy Experience.