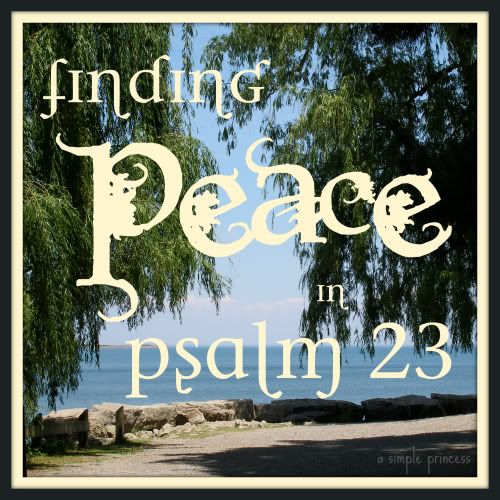 I am so excited to take this journey through Psalm 23 with my blogging friend Kerri at A Simple Princess.  I love to study the Word of God and it's even better to do it with a friend.  Today we are discussing the first two words of the first verse…THE LORD.  You can still join us! Grab the button, write your thoughts on this first part, and link up!
Psalm 23 is a passage of scripture that I am well acquainted with.  It's been read at every funeral I've ever attended, and it is the passage that my team in the House of Prayer has been singing through on our Worship With the Word sets.  But no matter how many times I hear it, read it or sing it, I am realizing there is so much more revelation.
Over the last month or so, I have been purposefully slowing down and stopping at the first two words of the first verse. The Lord.  Who is He really?  How do I see Him?  I truly believe that before I can begin to understand the remainder of this passage, I must first look at Him — the LORD — and see Him for all that He is.
One tool I love to use when searching to know more about God is The Adoration Prayer Guide.  It is filled with names of God and His character and gives you space to write your own revelation.  There is even an iphone App!  How cool is that?
I thought I would take you on a journey through the alphabet while I share with you who the LORD is to me!
Abundantly Available – 
"God is our refuge and strength, an ever present help in times of trouble." (Psalm 46:1)
The Bread of Life –
"Then Jesus declared, 'I am the bread of life.  He who comes to me will never go hungry, and he who believes in me will never be thirsty."  (John 6:35)
Close –
"The Lord is close to the broken hearted and saves those who are crushed in spirit." (Psalm 34:18)
Defender –
"A father to the fatherless, a defender of widows is God in His holy dwelling."  (Psalm 68:5)
Everlasting Father –
"For to us a child is born, to us a son is given, and the government will be on his shoulders.  And He will be called Wonderful Counselor, Mighty God, Everlasting Father, Prince of Peace."  (Isaiah 9:6)
Faithful –
"He who calls you is faithful, who also will do it."  (1 Thessalonians 5:24)
Guardian –
"For you were continually straying like sheep, but now you have returned to the Shepherd and guardian of your souls."  (1 Peter 2:25 NASB)
Hiding Place –
"You are my hiding place."  (Psalm 32:7)
Indescribable –
"Thanks be to God for his indescribable gift."  (2 Corinthians 9:15)
Judge –
"God is a righteous judge."  (Psalm 7:11)
King Forever –
"The Lord is King forever and ever."  (Psalm 10:16)
Light of the World –
"The Lord is my light and my salvation."  (Psalm 27:1)
Maker –
"For you created my inmost being; you knit me together in my mother's womb."  (Psalm 139:13)
Nurturing –
"A bruised reed He will not break, and a dimly burning wick He will not quench."  (Isaiah 42:3)
Overcomer –
"…Who is He that overcomes the world."  (1 John 5:5)
Portion –
"You are my portion O Lord."  (Psalm 119:57)
Quick –
"Turn your ear to me, come quickly to my rescue, be my rock of refuge, a strong fortress to save me."  (Psalm 31:2)
Refreshing –
"He refreshes and restores my life."  (Psalm 23:3)
Shield –
"But you are a shield around me, O Lord."  (Psalm 3:3)
Trustworthy –
"…You are God.  Your words are trustworthy."  (2 Samuel 7:28)
Uncreated –
"In the beginning God created the heavens and the earth."  (Genesis 1:1)
Victorious –
"In your majesty you rule victoriously in behalf of truth, humility and righteousness."  (Psalm 45:4)
Wonderful – 
"…Your works are wonderful."  (Psalm 139:14)
Yahweh –
"Let them know you, whose name is The Lord, that You alone are the Most High over all the earth."  (Psalm 83:18)
Zealous –
"My zeal has consumed me."  (Psalm 119:139)
There was a time in my life when I only saw the LORD as a big ruler in the sky, who wanted to control my life, and who I'd better obey, or else.  And although we must have a holy fear and reverence for the LORD, I believe He desires that we see and experience all of His attributes.
The Lord.  Who do you say that He is? How has He shown Himself to you recently?  I would love for you to share in the comments below.  Or link up with Kerri as we walk together and find peace through Psalm 23.