Grapevine Studies Review
We love to read and study the Bible in our home. As for schooling, sometimes we need to simplify and have fun with it.  For the past few weeks we've been using the New Testament Overview Part 1 – Level 4 from Grapevine Studies for our Bible study. As first time users of this product, we were very impressed.

How We Used The Product
For the purpose of this review, I was given PDF downloads of both the student workbook and teacher's book. The student book includes lessons pages, timelines, maps, memory verses, and reviews.  The teacher book includes lesson notes, timelines, stick figure drawings, maps, lesson goals & key points, memory verses, and review questions & answers. We downloaded the pages as we went and hole punched them and put them in a three-ring binder.  There is enough material for 12 weekly lessons, or 45 daily lessons.
Along with colored pencils or pens, the other items we needed to have for this study were a Bible Dictionary, Concordance and Topical Bible. It is also recommended that you have a white board, but since we did not have one, we made do without.
On the first day we completed the New Testament Timeline. This began with Adam and ended with Jesus Prayed.  For this lesson I drew the stick figures on paper and my son followed on his paper.
Here are my son's Timeline pages:
The neat thing about the drawings is that certain colors and symbols refer certain things (although my son decided he wanted to stick to some other colors throughout our lessons and well, I just let him do what he wanted, although we did talk about the colors and their meanings.)
After we completed the Timeline Review we decided to take two days to complete each lesson, spending no more than about 15-20 minutes each day. Our discussions were long on some days, but for the most part we moved through the discussion very quickly.
I loved how the teacher pages are laid out. The "read, discuss and draw" topics are at the top, which lets you know what the scripture reading is for the lesson, what the topics of discussion are, and what your child will be drawing. There are also vocabulary words to look up in a Bible dictionary for each lesson.  The teacher pages also show you what the completed student drawing page should look like.
Teacher page example:
My child's corresponding student page:
Also included in each lesson is a review of the topics discussed, scripture memorization and timeline review.
Our Thoughts
My son really enjoyed stick figuring his way through our lessons. When it came time to review the timeline he could easily remember what was happening at that time because of the drawings.
If you have a child who loves to draw, is visual and needs an easy intro into Bible study, I would highly recommend Grapevine Studies.  There are various topics for different age ranges and even traceables for very young children.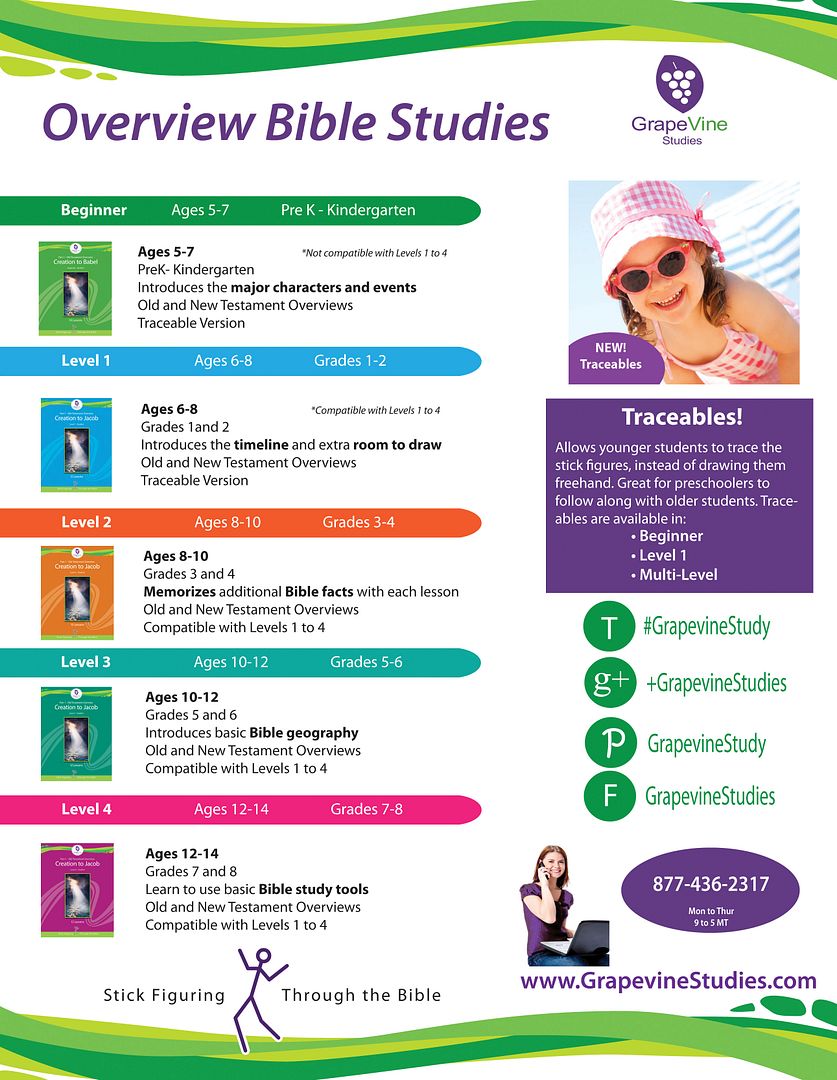 I guarantee you that there will be no more hearing your kids say, "I'm bored" when it comes to learning about God's Word. They will enjoy drawing their way through the Bible as the people and places come alive to them in fresh and new way.
Be sure to check out Grapevine Studies here:
Facebook: https://www.facebook.com/GrapevineStudies/
Twitter: https://twitter.com/GrapevineStudy
Pinterest: https://pinterest.com/GrapevineStudy
And don't forget to check out more thoughts from The Crew on this amazing product!