You Can Do Art With ARTistic Pursuits // A TOS Crew Review
Although not a trained artist, I've been known to get my fingers wet with abstract painting. Naturally, I want my children to experience art in various forms. This is why I was so excited for the chance to review Elementary Book 4-5 Book One from ARTistic Pursuits, Inc.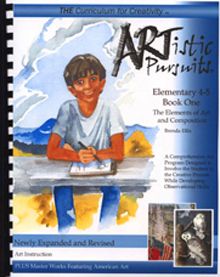 About ARTistic Pursuits, Inc.
ARTistic Pursuits is an art program that involves children in the creative process while helping them to develop their observation skills. The text includes all components of a fine art education by engaging students in building a visual vocabulary and using critical thinking skills as they explore creativity, art history, art appreciation, and art techniques using real art materials and tools.
How We Used This Product
The Elementary 4-5 Book One is geared for children ages 9 and older. It is broken up into 16 units, each one teaching a different element of art and composition, such as:
Space
Line and Shape
Texture
Value
Form
Contrast
Edges
Balance
Rythm
Overlap
Depth
and so much more.
One thing I really appreciate about this curriculum is the art history shared throughout the book. There is a short paragraph about a different artist, as well as the history behind the time in which the artist lived. With this curriculum, you get a two-for-one in that it is art, but history as well.
I loved how short and doable each lesson was. The directions were clear and not overwhelming, and encourages the artist to step out of their comfort zone, explore their surroundings and create art.
My son was excited to get started, but we quickly had episodes of melt downs and down right refusal to continue. After talking with my son, it's not because he doesn't understand the curriculum or that he didn't enjoy doing the lessons. He is still learning to appreciate his own artistic ability and doesn't have a lot of confidence in  himself.  So instead of giving up altogether, I did most of the lessons covered in the review period right alongside of him, giving him a lot of encouragement along the way.
Here is one creation my son allowed me to share. This one was based on a lesson about drawing something from your imagination.  It was raining on this particular day, so he imagined himself outside, in the sun standing underneath a large rainbow.
One of the lessons that I most enjoyed was one on Looking at Form in Art. In that lesson we learned that form shows the roundness of an object, and that by showing roundness or depth it makes the objects appear more real.  In this lesson, I had to make an observation drawing by copying another artist's work.
Here is the image I had to copy, and my drawing is on the right:
Overall, I was very pleased with how it turned out. I still need lots of practice, but I am having fun moving through the lessons and my son is gaining more confidence, although he would not allow me to show any more of his drawings.
Final Thoughts
If you are looking for an art curriculum that is simple and doable, you may want to check out ARTistic Pursuits. You will begin to embrace the artist in you as you move through these user-friendly, informative and fun lessons.
With ARTistic Pursuits, you can do art too!
For more information, visit ARTistic Pursuits on Facebook.
Be sure to stop by and read what other Crew members are saying about this wonderful art curriculum.