Help With Focus And Comprehension with Forbrain – Sound For Life Ltd // A TOS Crew Review
This year has been quite a transition for us as it is our first year homeschooling. One of the things we are working on is slowing down, focus and comprehension. Sometimes it's hard for my ADHD middle schooler to sit and focus on school work for more than 15 minutes at a time.  I was so excited when Forbrain – Sound For Life LTD sent me a package with their bone conduction headset!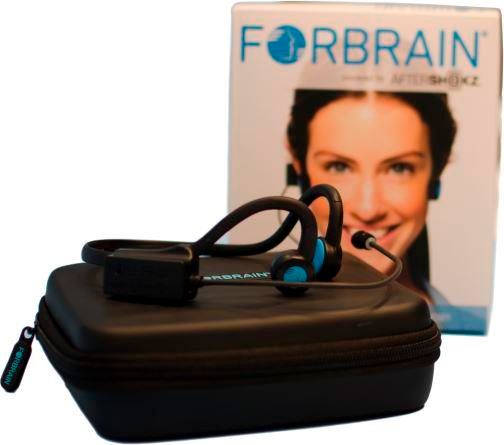 What is Forbrain?
Unlike most headsets where the ear piece sit inside the ear, this headset is placed behind the head and the earpieces rest on the bones just in front of your ears, near the cheek bones. It comes with an attached microphone and several mic covers which are great to swap out for sanitary purposes when more than one person is using the head set.
Forbrain uses high frequency vibration to create and process sound. It blocks out excess noise, isolating and amplifying the user's voice, which gives the nervous system quite a sensory workout. It also enhances long vowels and other sounds which are critical to building language skills. The resulting sound is delivered through bones and cone conduction, not the ears or air conduction, to the nervous system and brain. Since one's own voice is the source of Forbrain's functionality, it is great for reading, singing, chatting — virtually anything that uses your own voice!
Here are some of the ways that Forbrain can help:
Reading and Writing
Verbal or Short Term Memory
Attention and The Ability To Stay On Task
Concentration and Focus
Speech, Pronunciation and Fluency
Motivation, Self-Esteem and Self Confidence
How We Used The Product
My son wore the headset for about 15 minutes each day for a period of about six weeks. When he first put it on, he did not like the vibration of the headset at all. He is highly sensitive to both sound and touch. It took some coaxing to getting him to wear it for the full 15 minutes each day, and we had to work up to that, but after a while, he was pretty comfortable with it and said that it didn't bother him anymore.
He used the headset while working on his reading comprehension and other school work.


The first thing my son noticed was that his voice seemed very loud to him. We turned the headset down a little bit from the recommended mid range and tried again. It was better, but for the most part, my son needed to talk a little softer in order for his voice to be heard in a more normal tone. Also there is a difference in how his voice sounds with the distance of the microphone from his mouth. The first photo shows his optimal position, while the 2nd shows it a little too close.
While working on his reading comprehension exercises, he did note that he appeared to be able to concentrate better, because he couldn't really hear anything else "going on in his head" but his own voice. I haven't noticed a huge improvement in his comprehension skills just yet, but I have noticed that he appears to be sitting for longer periods of time without getting antsy while reading, and he appears to be reading slower and really concentrating on what is coming out of his mouth.
One of the things I was anxious to see if Forbrain would help with is stuttering. He doesn't have a big stutter, but when he gets overly anxious or in a hurry he tends to stutter more. Because he reads slower and his words seem more pronounced while using the headset, it appears as if there is a small improvement in that area.  If anything, the headset is reminding him to "take it slow" and that alone is a huge improvement.
Our Final Thoughts
Overall, I am very pleased with the small improvements I've seen in my son. I do think that we need more time to really know if the headset will help him with his reading comprehension struggles. We look forward to using Forbrain during the Summer and in the Fall.
If you have a child with an Auditory Sensory Disorder, ADHD or speech impairment, you may want to give Forbrain a try.
To read other testimonies of how Forbrain is helping other children, but sure to click over and read the other Crew Reviews. Just click the image below.