Drive Thru History® – "The Gospels" // A Review
One of my son's favorite subjects in school is Bible. We currently use an online bible curriculum that keeps my auditory and visual learner engaged. Over the last several weeks, Drive Thru History®'s Dave Stotts has been our engaging and entertaining tour guide as we tour with Drive Thru History® – "The Gospels".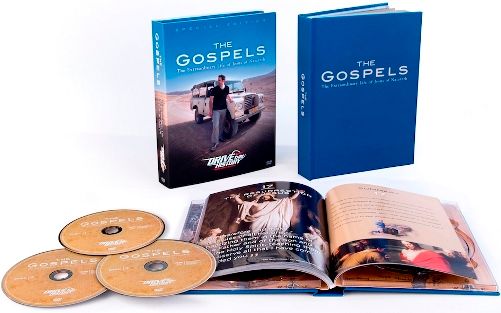 Drive Thru History® – "The Gospels" tells the story of Jesus from the places recorded in Matthew, Mark, Luke and John. In this series, you will travel with Dave Stotts to over 50 ancient sites in Israel, bringing the gospels to life in a fresh, new and exciting way. Along the way, he brings evidence of the truth of scripture, and encourages families to get excited about reading the Bible.
This set contains 3 DVDs which contain 18 hours of action packed episodes to get your student and family excited about the Bible. Each episode is 30 minutes in length. The episodes included are:
Episode 1: The Historical Landscape
Episode 2: The Announcements
Episode 3: Jesus is Born
Episode 4: Jesus Grows Up
Episode 5: Jesus Starts His Ministry
Episode 6: Jesus Returns to Galilee
Episode 7: Jesus Begins His Miracles
Episode 8: Jesus Teaches with Authority
Episode 9: The Sermon on the Mount
Episode 10: Jesus Travels the Sea of Galilee
Episode 11: Jesus Travels North
Episode 12: A Final Trip to Jerusalem
Episode 13: Jesus Arrives in Jerusalem
Episode 14: The Last Supper
Episode 15: The Trial of Jesus
Episode 16: The Crucifixion of Jesus
Episode 17: The Resurrection of Jesus
Episode 18: Who is Jesus?
How We Used This Product
I watched the DVDs wit my son a few times a week during the review period. From the beginning, I was captivated by the beautiful scenery, landscape, architecture and art displayed throughout the episodes. My son loved the 1976 Land Rover that Dave used to take his journeys and really wants to ride in it.
It was easy to feel as if we had jumped into the back seat and were brought along on the journey. Having never been to Israel, I so appreciated the beautiful visual laid out before me by Dave as he brought the gospels to life.
This is not boring Bible teaching, if there is such a thing.  Our interest was kept alive by Dave's knowledge of every place he took us to. His sense of humor made watching not only a learning experience but fun.
Along with the DVDs, there is a 118-page study guide which you can use as a means of discussion with your family, or even as a small group. For each episode, the guide includes a Summary, five discussion questions, a list of additional scripture readings and a "Side Road" column, which shares additional facts and background about the people, places and events discussed in each episode.  We opted not to use the study guide but did spend time in discussion after each episode.
The one thing about the study guide that I didn't care for was that it was not separate from the DVD case. It is literally a part of it. The positive about this is that you will never lose the guide, but the downside is that you can't lay the guide flat. It was hard to not feel as if I might harm the DVD's somehow.
Overall, we loved Drive Thru History® – "The Gospels" by Drive Thru History®. It far exceeded my expectation as a visual and auditory method of learning about these important biblical events for our son. I would highly recommend this series for your family to learn about the life and ministry of Jesus in both an educational and entertaining way.
Be sure to click on the banner below to read what other Crew members thought of this amazing product.