Taking the Joy Dare and counting my way to 1000 gifts in 2012!
Thou hast given so much to me,
Give one thing more, – a grateful heart;
Not thankful when it pleaseth me,
As if Thy blessings had spare days,
But such a heart whose pulse may be Thy praise.
~George Herbert
49.  My daughter's lost iPod, which has been found.
50.  Time spent with my oldest daughter and my future son-in-love doing wedding errands.
51.  That God is patient with me.
52.  His forgiveness.
53.  Partnering with God's heart in intercession.
54.  The ability to bring heaven to earth through my prayers.
55.  Growing pains.
56.  Watching my youngest daughter accomplish something she didn't think she could.
57.  Encouraging a friend.
58.  Taking dinner to a sick friend.
59.  His strong arms of love.
60.  Learning that in order to have faith, you must first have hope.
61.  Asking God to come in and heal the broken places.
62.  Organized Simplicity, a free download from Amazon (for Prime members).
63.  Learning to breathe Him in.
64.  Letting go of stress and worry.
65.  The joy my heart feels to see my daughter entering the next phase of her life.
66.  Wedding venue  booked.
67.  Wedding dress shopping on Thursday.
68.  Photographer booked.
69.  That God smiles at me.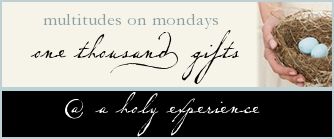 I am linking up with Ann over at A Holy Experience today as we count our gifts to 1000 and beyond!  Will you join me there?  Or simply leave a comment below and tell me three things you are thankful for today!