Taking the Joy Dare and counting my way to 1000 gifts in 2012!
"We can only be said to be alive in those moments when our hearts are conscious of our treasures." – Thornton Wilder
70.  Meat stock up sales at my local grocery stores.
71.  Our new/used refrigerator for our garage.
72.  My proud mama's heart over the courtship my son has entered into with a wonderful girl.
73.  My daughter said YES to the dress!
74.  God's faithfulness in meeting her budget limitations.
75.  Spending time at the hospital with a sick friend.
76.  The burden to pray for those who are sick.
77.  That He is Jehovah Rophe, the God who heals.
78.  God's peace, which surrounds those walking through hard times.
79.  Finding more stuff to sell on eBay!
80.  That my daughter was motivated to get her homework done last week.
81.  Mint flavored, dark chocolate.
82.  That He covers me with His feathers.
83.  That He shelters me under His wings.
84.  That He hides me in the cleft of the Rock.
85.  That He is my Fortress, my Strong Tower.
86.  That He sent His Word and healed our disease.
87.  The reassurance that I am needed.
88.  His gentle whispers that draw me closer.
89.  Amazing grace!
90.  Excited to meet this blogger tomorrow!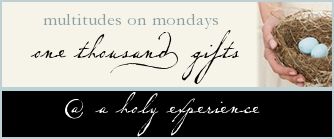 I am linking up with Ann over at A Holy Experience today as we count our gifts to 1000 and beyond!  Will you join me there?  Or simply leave a comment below and tell me three things you are thankful for today!