As a mom of a son who struggles with reading comprehension, I was super excited for the chance to review the 5th Grade Literature Set from Memoria Press.
My son, although technically in the 7th grade, struggles with reading comprehension due to his visual learning tendancies. This has made reading more "work" for him when I'd like it to be more "fun".
We chose the 5th Grade Literature Set because my son has been wanting to read The Lion, The Witch and The Wardrobe for a while, and I also felt that the workbook would be more at his level of comprehension.  The other titles in the set include Heidi and Lassie Come Home. Although the books themselves are not included, you can purchase them directly from Memoria Press, a discount book store or from your rent them from your local library.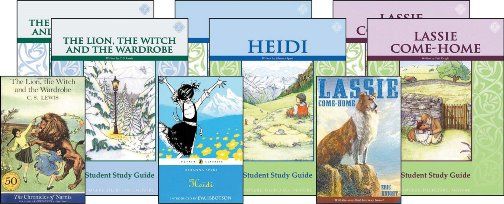 Each title comes with a Student Study Guide and a Teacher Guide. I was very impressed with the look and quality of the guides. The covers are beautifully illustrated and glossy.  The guides themselves are not bulky or intimidating, but have just enough content to keep your child thinking with every turn of the page.
Each chapter of the study guide includes:
Reading notes – tidbits of information to go over orally with your child that pertain to key characters, places or terms.
Vocabulary – 2-4 vocabulary words for each chapter
Comprehension Questions – helps build comprehension and purposeful reading
Quotations and Discussion Questions – helps to guide oral discussion with your child
Enrichment Activities – includes composition, copywork, dictation, research and more.
Unit Review and Tests – helps to monitor what your student is learning and retaining as they read.
How We Used This Product
I had my son read one chapter per day, independently and work on the corresponding chapter in the Student Guide.  He would define the vocabulary words and answer the comprehension questions to the best of his ability.  We would then meet later in the day to discuss what he read. I would ask him about the chapter and for an oral synopsis, then we would go over the vocabulary words and comprehension questions, followed by the chapter discussion questions.
Having my son work independently helps me to access his skills and know which areas he needs to work on, such as answering questions in complete sentences and finding tools to better help him to comprehend what he's reading. I always challenge my son to read out loud, even just to himself, to better help him to absorb the material.
The Teacher Guide is a fabulous resource. It has all of the answers for you, so you do not have to guess at what the answer might be. It's a great way to access whether your child could be more descriptive in his responses, etc.
Although we did not complete much of the Enrichment, nor did we utilize the tests or quizzes this time around, we plan on continuing to use the 5th Grade Literature Set and growing into these activities with our next read, Lassie Come Home. The format for this study guide is basically identical to The Lion, The Witch and The Wardrobe, so my son is already use to the layout. We are excited to get started with another piece of great literature thanks to Memoria Press!
Our Final Thoughts
My son enjoyed the study guide for The Lion, the Witch and The Wardrobe. He is looking forward to reading more books that offer study guides, like Lassie Come Home.
When my children enjoy reading, I am a happy mom. I believe that Memoria Press makes it easy for a child to not only love to read, but love to learn as they read. I highly recommend the Literature Guides offered by Memoria Press to enrich your child's love of classic literature.
Be sure to check out the other reviews from members of The Schoolhouse Review Crew!