My son has been interested in all things concerning space lately.  For the last several weeks we've been using a Digital Unit Study focused around the book Heroes of History – Alan Shepard from YWAM Publishing.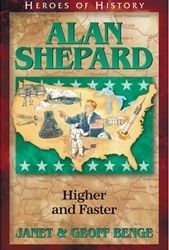 About YWAM Publishing
YWAM Publishing is committed to the publication of books that encourage Christians to make a difference in a needy world. Their books focus on evangelism, educational training, prayer, discipleship, and mercy ministries. YWAM Publishing is a nonprofit organization, and a portion of every dollar you spend goes toward helping kids and adults in China, India, Brazil, Colombia, Egypt, Uganda, the Philippines, and other countries in need.
How We used This Product
My son loves all things space, so we choose to read the biography of Alan Shepard for our review. This book is 240 pages, and is suitable for children ages 10 and older. The book covers Alan's life and fascination with flight as a child to to his eventual walk on the moon. My son was pretty fascinated to say the least.
I had my son read two chapters of the book independently, about 3 to 4 days a week.  The chapters were short enough to keep his attention span, and written in such a way that it was easy to understand and kept him interested.  He is often bored with biographies but really enjoyed this one.
Along with the book, we received the Digital Unit Study. This 84-page guide is a wealth of information for you to further your study on Alan Shepard, including such things as:
Key Quotes
Chapter Questions
Student Explorations (including creative writing, essay ideas, hands-on projects and crafts)
Related Themes to Explore
Community Links
Social Studies
and much more!
The study guide contains way more information than we could have used during the review period, so we decided to focus just on the quotes and the chapter questions. We focused on one quote every two chapters or so by discussing how it related to Alan Shepard, as well as how it could relate to our own lives.
There are six questions for each of the chapters in the book:
A vocabulary question drawn from the text which corresponds to a page in the book
A factual question from the chapter
Two questions to aid in comprehension
Two open-ended questions seeking an opinion or interpretation.
After each reading he would write the questions down in his notebook and answer them to the best of his ability and then we would discuss them. Although my son often had a hard time with the last two questions (he's not a deep thinker), he did well with the first four questions.
Our Overall Thoughts
For a child who finds biographies boring, we were quite pleased that this product held my son's attention. I plan on incorporating more Heroes of History biographies into our homeschooling in the future. If you are looking for books that will bring a historical person to life and assist your child in learning about the importance of each one's contribution, I would highly recommend the Heroes of History series by YWAM Publishing.
For more information, visit:
Website: www.ywampublishing.com
Facebook: http://on.fb.me/o9VOMN
Twitter: @YWAMpublishing http://twitter.com/YWAMpublishing @YWAMpublishing
Pinterest: http://www.pinterest.com/YWAMpublishing
The YWAM Publishing Blog: www.ywampublishingblog.com
Be sure to read what other Crew members are saying about this fabulous product by clicking the image below.