My son loves science. We've been working hard all year on life and earth science. We had just completed reading up on the solar system when we were given the chance to review The Book of Astronomy Set by Memoria Press. My son was so excited to begin this study of the constellations.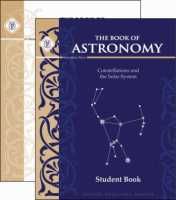 About The Book of Astronomy Set
The Book of Astronomy Set comes with a Student Book and a Teacher Book. It is recommended for children in grades 3-5, but since my son has not studied a lot of astronomy, he was happy to oblige although in the 7th grade.
The student book is 164 pages and is broken up into four units, which cover the constellations, the motion of the earth, the names of stars, as well as the sky as seen throughout all the seasons, including the "Summer Triangle" and the fall and winter zodiacs. This study set pairs nicely with D'Aulaires' Book of Greek Myths, which is referenced throughout the study.
The Teacher Book is 228 pages and contains the answers to each unit's exercises, as well as definitions, test and overheads.
I did purchase a Lesson Plan created for this study for $5.00. It really helped me to know how to lay out the study from day to day. It also contains additional memorization ideas and helps.
How We Used This Program
My son worked on this study about three days each week.  He enjoyed reading about the stars, learning about what season they appear and also how they were given their names. He found the study a little repetitive, in that they have you list the 15 brightest stars like "a million times" (his words) throughout the book. But he is learning that repetition and writing things down often is how you learn. Needless to say, now that he can recite the 15 brightest stars, he's not complaining.
Along with his reading each week, there was drawing of the constellations as well as exercises to complete at the end of each unit.
One part of the Teacher's Guide that I am especially thankful for is the pronunciation guide in the back of the book. I cannot tell you how many I mispronounced.
Our Thoughts
Overall, we enjoyed the study of the stars. My son didn't like the repetition, but again, he is learning to understand that this is the best way to learn. I would like to see some color photos in the book to better help my visual learner to stay engaged. But he came away with a better understanding of the stars and that is all that matters.  We haven't quite finished the study so we look forward to continuing to work on it throughout the summer.
If you have a child in the 3rd – 5th grade, or an older child who is obsessed with the sky, The Book of Astronomy Set by Memoria Press is a great choice.
For more information, visit on social media here:
Facebook – https://www.facebook.com/memoriapress/
Twitter (@MemoriaPress) – https://twitter.com/MemoriaPress
Instagram (@memoriapress) – https://www.instagram.com/memoriapress/
Pinterest – https://www.pinterest.com/memoriapress/
Be sure to check out what other Crew members are saying by clicking the image below: