My 7th grade son tends to shy away from art. He lacks confidence in his ability to be creative, so frustration sets in and he often gives up. But over the last several weeks, he has been working through the lessons in the Entire Level 1 bundle of our new homeschool art curriculum from ArtAchieve.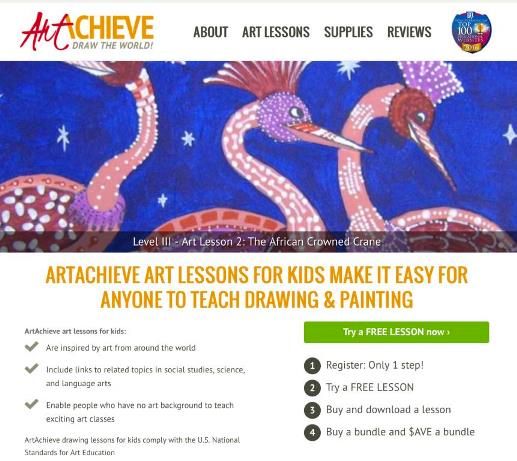 About ArtAchieve
ArtAchieve is an online based art curriculum for children of all ages. Even adults will enjoy it! They believe that anyone can learn to draw, and that drawing is an essential skill. They offer a proven approach to drawing that insures success (meaning your drawings will look like what it is you are attempting to draw). There are currently five levels available. It is recommended that if you have no art experience that you start with Level 1, no matter what your age is. Each lesson in all five levels has a description which can better help you choose the right lessons for you and your family.
How We Used This Product
For the purposes of this review, we received on line access to the Entire Level 1 bundle. A One Year license costs $27.00.  Contained in this bundle are the following art lessons:
Simple Lines (also a FREE lesson you can try online)
Shading Objects that Have Corners (also a FREE lesson you can try online)
Shading Rounded Objects (also a FREE lesson you can try online)
The Czech Cat
The Hungarian Insects
The Haitian Gecko
The Dragonfly from Ecuador
The Chinese Dragon
The Owl From Bali
The Kitenge Tree Wall Hanging From Tanzania
The Plate From Nepal
Four Suns With Four Faces
The Sheep From Wales
My son did one drawing lesson each week during the review period.  Each lesson contains a warm up, power point slide, video lesson and a copy of the final drawing that can be printed and referred to throughout the lesson.
Each evening I would print up the lesson warm up and final drawing for my son, as well as gather up the materials that would be necessary for the next day's lesson. There is a list of supplies included for each level on the web site. They are not expensive supplies, and include such things as a fine tip black Magic Marker, colored markers, paint pens, glitter paint and more.
My son would then view the video lessons and proceed to do the drawings. (He opted not to use the power point slides for reference but much preferred the video lessons.) He liked the gentle and calming voice of the narrator and enjoyed the step-by-step instructions. The lessons are not just about art and how to draw, but each one is a small lesson on cultures from around the world.
Each lesson also includes:
Goals for each lesson
Drawing rules (of which there really are no rules)
Visualization
Suggestions for music
Suggestions for decorating the final drawing
Reflection Questions
My son was not too keen on doing his art to music. He had a hard time concentrating, even with just instrumental music, so I allowed him to skip that part. We will try reintroducing music to art at a later time.
Overall, my son was pleased with his efforts. I tried to get him to think outside the box creatively when it came to the coloring but he ended up coloring pretty basic. Baby steps.  Here are some of the drawings my son did in this program.
Our Final Thoughts
We love ArtAchieve. It has really helped my son to gain confidence in his ability to be able to draw. One of the things we love most about this program is the step-by-step instruction in drawing. You are not left to just draw, but you are guided through each step and encouraged to use your own creativity.
If you are looking for an art program for your child, consider ArtAchieve. I know you will enjoy it just as much as we have.
Find out more about ArtAchieve by visiting:
Facebook: https://www.facebook.com/Artachieve
Twitter: https://www.twitter.com/artchieve  @artachieve
Pinterest: https://www.pinterest.com/artachieve/
Google+: https://plus.google.com/+artachieve
Instagram: https://www.instagram.com/johnahofland/
Check out the other Crew reviews for more thoughts on this amazing art program.