When I was pregnant with each of my five children, choosing their names was something I spent a lot of time in prayer on. All of their names have special meanings and, as they have grown, it's been fun to see their personalities and giftings take on their name meanings. I recently had the opportunity to review a Personalized Framed Plaque with Name Meaning and Bible Verse from CrossTimber.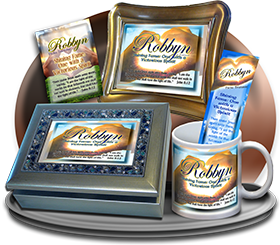 About CrossTimber
CrossTimber is a family run business, originally started in 1994 with design and graphics printing, with a passion for encouraging others through the meaning of names.  There website is extremely easy to navigate. There you will find countless design possibilities from name plaques, coffee mugs, music boxes, book marks and so much more.
What I Received
For the purpose of this review, I received a 5×7 framed name print. I wanted to focus on my first (and only) grandchild's name, Eli Christoper. I emailed John over at CrossTimber to find out the meaning of my grandson's name and he was very quick to respond. (I apologize for the bad picture, but my Dell is having issues and my screenshot feature is not working.)
I decided to have the print made with just my grandson's first name. The print itself is gorgeous, with rich, deep colors. I chose the Ornate frame, which is a dark-brown wood frame with intricate scrollwork designs. The frame measures 7×9 and is very well made. Also included was a 2.5×3.5 name card.
Instead of just receiving my review item, I ordered an additional item for my best friend for Christmas. She loves the Names of God so I thought she would be particularly fond of this 8×10 print with Ornate frame. Again, the colors are rich and deep. Very beautiful.
Final Thoughts
Because my life is full, I waited until almost the end of the ordering period before placing my order. John was kind of enough to email me and remind me to place my order. I was so grateful because I was having an extremely busy week and never intended to wait until the last minute.
The ordering process from inquiry to shipping was easy and smooth. John communicated with me every step of the way and the items came very securely packaged. My whole experience with CrossTimber was amazing. Their website is awesome, very easy to navigate and packed with not just name plaque ideas, but so much more. I've made some notes for future gifts I'd like to give.
Would you like to win some fabulous name meaning gifts for yourself or to give as gifts at Christmas Time? CrossTimber is having a big giveaway. Click the banner below and enter for your chance to win.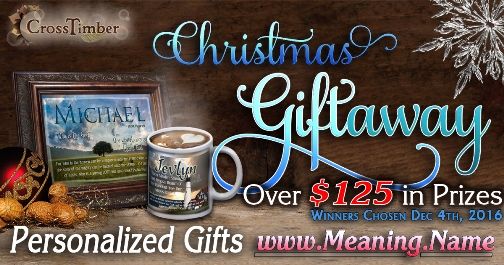 If you don't win the giveaway, CrossTimber is offering some pretty great discounts on products. Click the image below and order today!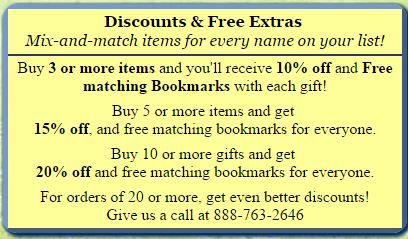 Be sure and click over to read what other Crew members thought of CrossTimber and look at some of the other fabulous products made by this amazing company.