My son loves computers. Aside from using them to complete about 85 percent of his homeschooling, he is an avid gamer and Minecraft player. I believe that solid computer skills are so important in this modern age of technology and the new Digital Savvy course from CompuScholar, Inc. provides excellent instruction in fundamental computing topics.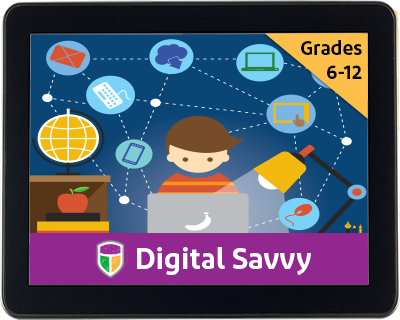 About CompuScholar, Inc.
CompuScholar, Inc.'s vision is to publish computing curricula for use in all learning environments to make it fun and easy for teachers and parents to bring Computer Science and Digital Literacy to their students. Aside from the Digital Savvy course, there are courses in web design, introductory programming, Java Programming, game programming and Android programming. Courses are appropriate for students in grades 6-12.
About Digital Savvy
This course is the perfect fit for students who want to improve their basic computer skills and prepare for more advanced courses.  The topics included are:
Hardware, software, and operating systems
Managing files and folders
Basic networking
Online safety and computer security
Using Word processors, spreadsheets, and presentation programs
Creating simple databases
Image editing
Using social media and email communications
Introductory website design
Simple computer programming concepts
Exploration of computing careers
This program runs on Windows 7, 8 or 10, or Mac OS version 10.7 or higher.
How We Used This Program
After I created a login and password to the Parent Dashboard, I was able to set up my son with his own log in credentials to access the student dashboard.
Once on the dashboard, both student and parent will see an overview of the lessons, including chapter titles, as well as the number of files and quizzes there are for each chapter. Parents can access the grade book to get an overview of your students scores on quizzes, exams and projects. The student also has access to his/her grades and can also "re-attempt" quizzes for better scores, up to three times. There are also links to helpful video tutorials for things such as resetting a password, reviewing grades, managing project files and other important topics.
Each lesson has both a video and text component, as well as a quiz. The video component is perfect for my auditory learner, but we did print out the text file as well for him to refer to if needed. Each chapter has about three lessons, one quiz, one project (to be turned into the parent) and one final exam.
I love that each lesson was followed by a quiz and that a student can attempt the quiz up to three times. I think sometimes it is too much to save several chapters of work for one larger test or final exam. My son learns much better with smaller chunks of information. As you can see, he "rushed through" a few of the quizzes and did not go back to attempt a better score. We are working on going back and redoing those quizzes now.
If you click into the graded quiz, you can see what answers are incorrect. It displays the correct answer and the number of attempts by your student. Really, it's so easy for your student to get 100% on every quiz!
Final Thoughts
We love this program. We are just beginning Chapter 5 so we have a ways to go, but so far my son is learning so much. As a parent, I love that my student can work independently and at his own pace. I can pop in and check grades and make sure he's turning in projects (which we also need to work on!).
When I asked my son what he thought about this course, he answered,
"I like this course a lot because I am learning more about computers and it's really fun. I love computers so the more I can learn about how they work the better I will be. I really like the video lessons because they help me remember the information by hearing it."
If you are looking for a foundational computer course for your student, check out Digital Savvy by CompuScholar, Inc. I am sure your student will love it just as much as mine is.
Be sure to click the banner below for other reviews of this awesome course as well as other courses offered by CompuScholar, Inc.