I love to do art with my kids. But as they have gotten older, it's harder to get them to want to participate in art projects without some skillful prompting. What makes it easier for them is great quality art supplies, like the Thin Stix 6pk of Classic Colors from The Pencil Grip, Inc.
The Pencil Grip, Inc. was founded in 1992 by Dr. Lois Provda and provides innovative products for use in school, home and office, such as book rings, flashlights, rulers, basic office supplies, labels and stickers, basic pencil grips and more!
Thin Stix are solid tempura paint sticks that are mess free. They are likened to a glue stick, in that they have a dial on the bottom that you turn and the paint stick comes up. With the vibrant, beautiful colors you are just minutes away from creating beautiful art. The paint dries in 90 seconds and the colors do not run (although you can blend them together, but we didn't try this technique). This product can be used on paper, canvas, wood and cardboard. Although you can use it on regular paper, I find cardstock works much better.
For the purpose of this review, I received the Thin Stix 6pk of Classic Colors, which includes black, brown, blue, green, red and yellow.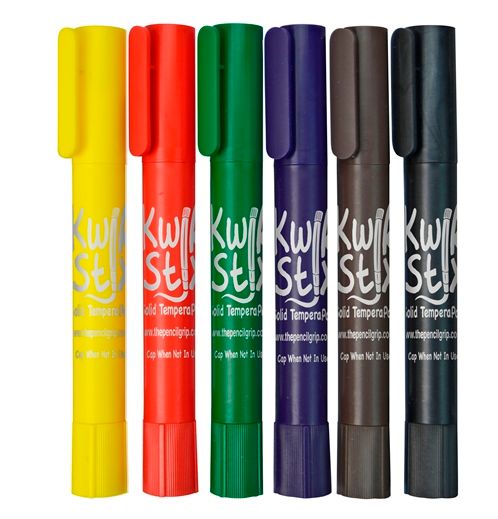 Thin Stix also come in a 24 pack as well as a Creativity Pack. Both of these packs include assorted colors, as well as neon and metalix colors. The neon and metalix colors are also sold in individual 6 packs as well.
Here is a project that my son created one day when he was bored and I asked him to go paint something using the Thin Stix.
I used the Thin Stix on watercolor paper to paint a concept of something I had in my head — an ocean of God's love. The color did not cover as well on watercolor paper, but that is actually the look I wanted, so it was totally fine.  Although my project isn't finished yet, here's a peak at what I have done so far:
As a fairly new Nana, I have been instilling a love for art in my two year old grandson. Now that he lives with me, he knows exactly where to go to ask for the "colors". With my supervision, I give him the Thin Stix and paper and let his imagination go. He is pretty set on drawing "tracks" for his cars almost every time. Here he is having a great time creating a masterpiece with the Thin Stix, which are perfect for his little hands to hold. *You will definately want to supervise a young child with this product as they can leave marks on tables and clothing, but the marks come off pretty easily. 
Overall, I love this product. However, I was expecting them to be a little thinner. It wasn't as easy to make a fine line with them, but for the projects we did, they worked out okay. If you enjoy good quality, mess free art supplies, you will want to add the Thin Stix 6pk of Classic Colors to your art box.
A GIVEAWAY!
The folks over at The Pencil Grip, Inc. have graciously offered to provide one of my readers a set of Thin Stix 6pk of Classic Colors of their very own. All you have to do to enter is tell me what you would create with this product, or who you would gift these to if you were to win.
The giveaway will end at 9PM Pacific Time on Wednesday, May 31st. *Open to residents of the Continental United States only.
Be sure to check out what other Crew members have to say about this amazing product by clicking the banner below.