As a busy working mom who also homeschools, I don't get much time to read for my own enjoyment. But when I do, it's always good Christian fiction that first catches my interest. That is why I was so excited to receive my copy of the The Secret Bridge from Lamplighter Publishing and begin reading this one myself.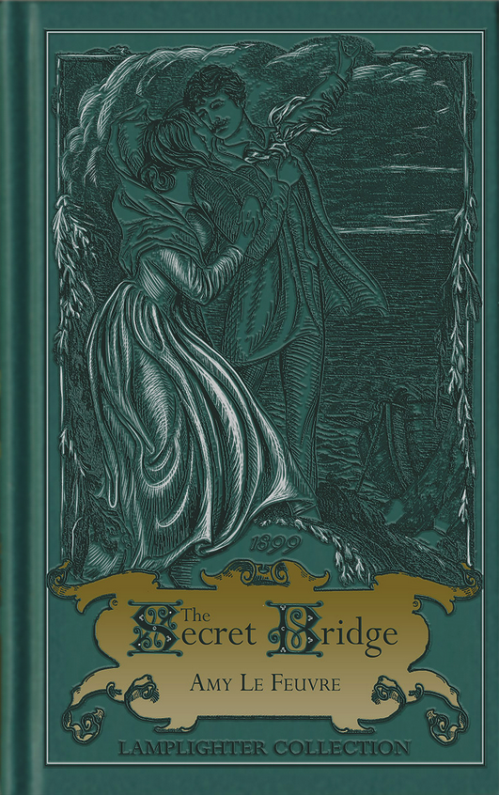 You guys, I just have to tell you when I first laid eyes on this book I could not get over how beautiful it was. The book cover is in a beautiful shade of teal green, and the image on the cover is slightly engraved. The title of the book is engraved within a gold backdrop. It's a book I would definately pick up had I seen it on a bookstore shelf.
Lamplight Publishing aims to build Christlike character one story at a time. Each story is built on the very character foundations that are instilled in a person from a young age. Each is a story of love, hope, perseverance, loyalty, courage and humility, and include biblical frameworks that reflect the character of God.
The Secret Bridge by Amy Le Fauvre, written in 1899, tells the story of young Bridget Channing. Alone and penniless after her father's death, she is traveling to England by ship to stay with her Uncle. While on board she meets the very charming Mr. Godfrey Bellingham, who senses her distress and feels an intense need to take care of her. After making small talk on the ship and becoming somewhat acquainted, Bridget and Godfrey go their separate ways. Bridget finds out after arriving at her Uncle's home that he has since passed on only three weeks early, and she is not welcome in the house. Alone again and in even more of a desperate situation, she crosses paths once again with Godfrey who makes her a proposition of marriage. Reluctant at first, she finally agrees, and the couple set off on a path of new discoveries, deepening relationships, character and trust building. Yet, secrets lurk that threaten to ruin any promise of new found hope and love.
In the beginning of the book Bridget declares her unbelief in God; yet, we find her challenged to "Acquaint Thyself With Him" as she begins her quest to know God as she deals with the challenges of her new life and the mysteries surrounding it.
I loved this book. I loved holding it in my hands and was impressed with the style of writing. The story encourages a deeper relationship with Christ and the quest to "Acquaint Thyself With Him" is a central theme throughout the book. With every turn of a page I was brought deeper in to the central theme of wanting and needing to know Christ more and waiting for Him as a bride waits for her bridegroom. I can honestly say there wasn't anything that I didn't like about this book.

If you enjoy Christian fiction, or have a student in middle school or older, I would highly encourage you to read 
The Secret Bridge
by
Lamplight Publishing
. I know you will love the story as much as I did.
Be sure to click the banner below to read what other Crew members have to saw about this beautiful story.