When you have a child who struggles with reading comprehension, it's important to find a curriculum that will not only increase that child's desire to read, but help with the reading comprehension issues as well. We have found the Grade 8 Lightning Lit Set by Hewitt Homeschooling to be just what we needed to finish our school year strong in both literature and comprehension.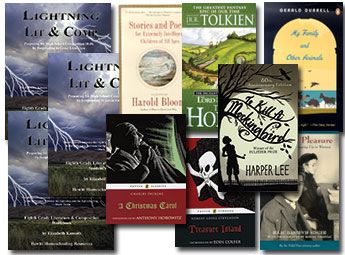 About Hewitt Homeschooling
Hewitt Homeschooling has been providing literature based programs for children in grades K-12 for over 30 years. Their curriculum saves parents time by providing clear objectives and lesson plans while also providing enjoyable and meaningful lessons for the student.
For the purpose of this review we received the following from the Grade 8 Lightning Lit Set:
Teacher's Guide
Student's Guide
Workbook
Stories and Poems for Extremely Intelligent Children of All Ages
Treasure Island (the first literature reading)
The Teacher's Guide not only explains the program, but contains a Weekly Planning Schedule, Discussion Questions, answers to the Comprehension Questions and Workbook Answers.
The Student's Guide contains the following sections for each piece of literature read:
An Introduction to the Reading
A Focal Point for the Reading
Vocabulary List
Comprehension Questions
Literary Lesson
Mini Lesson
Writing Exercises
The consumable Workbook contains several different types of activities for each lesson, such as story analysis, crossword puzzles, word searches and more.
I have to admit that I was a little overwhelmed by it all, as our son has not been prepared for anything this comprehensive before. Although he's technically going into high school this Fall, he is more at the upper elementary / middle school level when it comes to reading and writing. So I decided we would take it slow and focus on those things that would challenge him, but not be too overwhelming.
Using the Weekly Planning Schedule, I had my son work this program about 3 days a week. Our first literature reading was a story from the Stories and Poems book entitled A Crazy Tale. We read this story out loud together, and then we worked through the corresponding lessons in the Student's Guide and Workbook. I basically had to hold my son's hand through this lesson, as it was unlike anything he's done before, having not had much opportunity yet to analyze literature. We spent most of the first week discussing the author's purpose in both fiction and nonfiction and how to tell the difference.
Next, my son worked through a few of the workbook pages assigned for this lesson, which centered around author's purpose.
My son was very excited to begin reading Treasure Island, which we started mid-way through week two. About three days a week I had him read the assigned pages, read the corresponding lesson in the Student's Guide and complete assigned workbook pages. These lessons were all about analyzing setting, identifying bias, and analyzing literature.
Our main focus with this lesson was to read the book slowly, focusing mainly on learning new vocabulary and discussing the reading using the comprehension questions for each chapter. My son did better when we read the book out loud and discussed it orally.
We haven't yet completed most of the writing assignments for this chapter, because I wanted to make sure my son had a firm understanding of the literature first. We hope to complete the majority of the writing assignments for most lessons over the summer.
Final Thoughts
As a parent of a child who struggles with reading comprehension, I appreciate what Hewitt Homeschooling has to offer. I know that as we continue to use this curriculum, my son will grow in his love and understanding of literature, as well as gain assistance with his writing through the varied exercises in the workbook. I am confident my son will be a better reader and writer from using this curriculum.
If you are looking for a comprehensive, literature-based program for your child, be sure to check out Hewitt Homeschooling. While I had the opportunity to review the Grade 8 Lightning Lit Set, other members of the Crew review various other levels. Click the banner below to read more reviews!