If there is one subject my son loves it's science. While we have covered a lot of different sciences this year, we were lacking in the area of Botany. We were excited for the chance to review The Book of Trees by Memoria Press, which is an introduction to Botany through the study of trees.  Memoria Press also offers Latin Curriculum from Early Elementary to High School!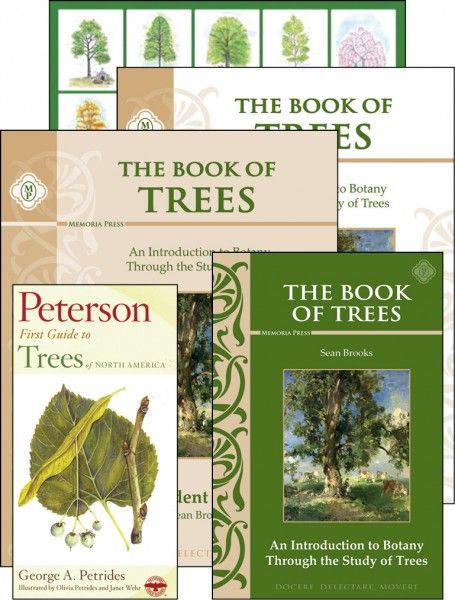 For the purpose of this review, we received a reader, student book and teacher guide.
*The student book is intended to be used by one student, so if you have multiple students using this curriculum you will want to purchase additional books.
 If you purchase the entire set from Memoria press, it also comes with two other recommended books, 
The Tree Book For Kids and Their Grown-ups
, and the 
Peterson First Guide to Trees of North America
.  As these two items were not included with what I received, we used the internet for further research.  This set is recommended for children in grades 6-8.
There are 9 chapters included in the 82-page soft cover student reader. What I love about the reader is that the chapters are relatively short, some just 4 pages, but no more than 15. Most chapters are between 5-8 pages. It's just the right about of information for a student who gets overwhelmed with a lot of reading, as mine does.
The student book contains 108 pages. It is broken down into four regular units, with a fifth advanced unit. For each lesson, there are reading and questions for each chapter, diagram and labeling as well as other activities.
My son worked through 1 chapter a week, 3 times a week. On day one he read the assigned pages in the reader. On day two he worked on answering the questions pertaining to each chapter, and on day three he worked on diagramming, labeling and/or other activities.
What I loved about the activities for this curriculum is it gives the student a chance to get outside to observe nature in their own surroundings. For the activity for the lesson on roots, my son was able to dig up a plant in our yard to examine it's roots closer. The photo below shows the plant my son dug up and he was able to identify it as having a fibrous root system.
After each unit there is a Unit Review that incorporates questions, diagramming, and labeling from what is learned throughout the lessons.
The Teacher Guide contains all of the answers for the questions and activities for each chapter. It also includes quizzes, tests and keys. The quizzes and tests do need to be photocopied from the teacher guide, as they are not contained in the student guide.
Overall, we loved this product. We love that it's simple to use, not overwhelming on the reading, and has just enough of a hands-on component to really help the student understand what it is they are learning. If you are looking for an introduction to Botany course for your 6th-8th grade student, The Book of Trees by Memoria Press does not disappoint.

For more about Memoria Press, you can find them here:
Be sure to click the banner below to read other reviews from Crew Members on this and other curriculum offered by Memoria Press.