I love when I find new, family friendly movies to add to our viewing library. As a family we try to sit down a couple of times a month to enjoy a movie together. Recently we had the chance to review Trust Fund from Mapelle Films.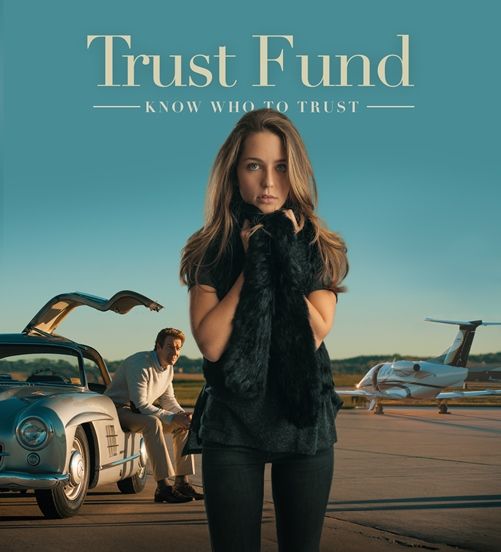 Trust Fund is a contemporary prodigal daughter story about a young girl who is anxious to live her own life and sets out on an adventure, only to end up running away from the life she thought she wanted, ending up back home in the embrace of a father who never stopped loving her.
The movie is about a young, aspiring writer, Reese (played by Jessica Rothe) who comes from a wealthy family. Her mother has passed away, so it's just her, her devoted and loving father, Grayson (played by Kevin Kilner) and her older and much more established sister, Audrey (played by Louise Dylan).
Reese's father owns a publishing company and is very well off. Audrey, the older sister, works for her father and is somewhat set in her ways and thrives on order. Reese is at a point in her life where she isn't sure what she wants. She believes she's fallen in love with a guy she met while recently in Italy, and is anxious to get on with living her own life. When Reese learns that her mother left her and her sister 10 million dollars in a trust fund, she becomes upset that her father has kept it from her. She agrees to work for her father, but as her bills continue to pile up, she decides to take matters into her own hands rather than listen to the advice of her father.
Having just stolen 5 million dollars from her father's company, Reese runs off to Italy to find the man of her dreams and live the life she imagines. After giving all of her money to her boyfriend, Milo, to assist him in his investments, Reese finds out that her money has been used in connection with illegal activity. Feeling lost and confused, Reese escapes the watchful eye of Milo while on a train en route to an "investment meeting" and calls her father to ask if she can come home. When she lands back in the states, her father is waiting for her with open arms, without judgment and ready to throw a party in her honor.
Older sister Audrey has some things to work through, given that her sister has been accepted back into the family with open arms. She does not agree with how Reese has been living her life, and struggles to love and accept her the way her father does. At one point in the film, Reese and Audrey are sitting at the police station after having turned Milo in for purchasing stolen diamonds. Reese is worried that she too will go to jail because it was her money that was used. But she is told that "no evidence can be found against her" and that "she is free to go". I liken this to how Christ sees us when we come to Him, with all of our sin an shame. He sees no evidence against us, wipes us clean and frees us from the sin of the past.
This was truly a wonderful story of a father's unconditional love for his daughter and a daughter coming to realize what real love is. There was enough adventure and a bit of suspense to keep me interested. The film is very well made and all of the acting is superb.  We really enjoyed it.
Take a moment and watch the trailer below.
If you are looking for a family friendly movie to add to your collection, check out Trust Fund from Mapelle Films. It received the dove seal for ages 12 and up, and for younger children when watched as a family together. There is even a downloadable study guide for small group discussion available.
Be sure to click the banner below to read what other Crew members thought of this film.