As a busy mom who juggles work, homeschooling and so many other things, I'm always on the hunt for new recipes to incorporate into our family's meal plan. Over the last several weeks, I've had the opportunity to cook some recipes using Everyday Cooking by Everyday Homemaking.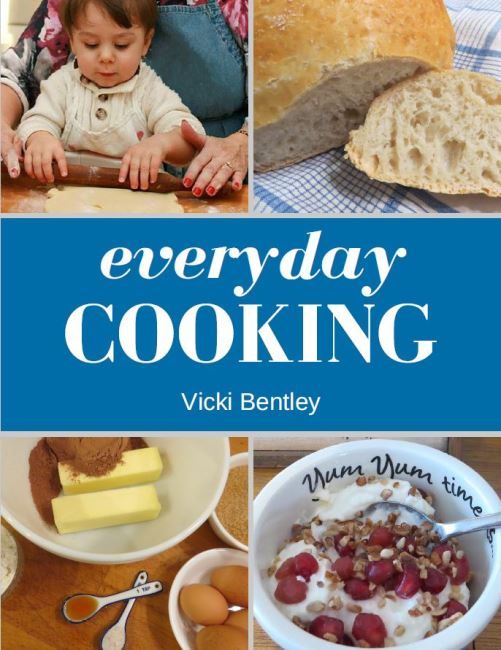 For the purpose of this review, I received the ebook version of Everyday Cooking, which is about 198 pages. There is a spiral bound book available for purchase as well.
Everyday Cooking was created by a busy mom, who at one time homeschooled 8 children. Her recipes are budget friendly, practical and easy to make. While the emphasis is on whole food, this is not a "healthy food" cookbook. Rather, Vickie provides options and substitution of ingredients for many of her recipes. Vickie also gives some great ideas for "do ahead" meal prep, things you can do on a weekend to prepare for the week, such as making a large pot of rice and freezing the remainder in small freezer bags. Another idea is to cook up hardboiled eggs, and bag up cheese and carrots to have on hand for salads during the week. Another great ideas is to double up on casseroles, freezing the extra one to have on hand for the week or another time when you need to pull something together.
How We Used This Book
When I first downloaded this book, I spent the first week or so reviewing the intro material, looking over the helps sections and browsing the recipes. While there are so many awesome recipes, I just couldn't make them all.
The first recipe I made was one of dessert. I am a really good cook (or so I'm told), but one thing I need a lot of help in is in the area of desserts. Since we were having company one night, I opted to make the Marbled Chocolate Chip Cheesecake.  I love that Vickie included a way to make this into Mini Cheesecakes, which is exactly what I did. I failed to get a photo of the prep, but the basic ingredients are graham cracker crumbs, margarine, sugar and cocoa for the crust and cream cheese, sugar, vanilla extract, eggs, sour cream, cocoa, flour and semi-sweet chips for the filling. Vickie even includes a way to make this cheesecake in an electric pressure cooker.
Putting the mini cheesecakes together was very easy. I fear I may have added the wrong amount of sugar to the base, but I didn't notice. The only thing I did wrong was that I forgot to put the mini-morsels on the top until half way through the cooking time. I thought once I added them on they would melt, but they didn't. So we just had mini marble cheesecakes with mini morsels on top.
Everyone loved this cheesecake. I was surprised that it wasn't as rich as I was thought it would be, which made it harder to not eat more than one. The only critique I got from my husband is to put less crust. In other words, I put too much crust on some of them. But overall, he loved it.
The other recipe I made was something my son picked — Dorito Casserole. I knew as soon as I saw this recipe that it would be on my son's list. He was eager to make and eat this one, consisting of Nacho Cheese Doritos, chili, diced tomatoes, mushroom soup and cheese.
Here is my son prepping this dish:
This cooked in the oven for about 30 minutes. He couldn't wait to dig in.
And the verdict is:
HE REALLY LIKED IT! He was expecting the chips to be hard still and have it be more like nachos. I had to explain to him that this was a casserole. Overall, he said the flavor was good and he would make it again.
Everyday Cooking is a great resource for busy families. The recipes are simple to follow and budget friendly. We are going to have fun continuing to make and try recipes from this book. If you are looking for a new resource to help you add meals to your menu, check out Everyday Cooking by Everyday Homemaking. And, if you are looking for a great resource to get your family involved in the home, you might consider The Everyday Family Chore System.
Be sure to check out the reviews from other Crew Members for both of these wonderful resources.