I don't listen to too many audio tapes. Although they worked well when my kids were younger, it's hard to find a good fit for my older kids.  Sometimes an audio series comes along that you know will have a lasting impact on not only your heart, but the heart of your chidlren.  Have you heard of Brinkman Adventures?  We were introduced to their missionary stories when we received Brinkman Adventures Season 4 to review.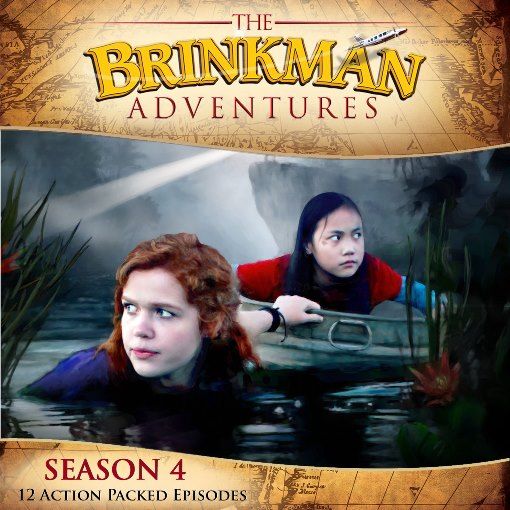 Brinkman Adventures is an exciting radio show that tells true, modern, missionary stories through the eyes of the fictional Brinkman family.  There are 12 episodes included in Brinkman Adventures Season 4 providing over five hours of exciting audio drama.  (Each episode is about 30-45 minutes in length.)  The episodes included, along with their central theme, are:
37 A Paradise Lost (God is in control)
38 Remember Nhu (Persevering)
39 Aisha's Fear (Overcoming Fear with Love)
40 Heart Song (Tenacious Faith)
41 The Crashed Kitchen (God Doesn't Make Mistakes)
42 Crisis In The Congo (People Over Projects)
43 The Mysterious Palm Feller (Confronting Evil)
44 War of the Raccoons (Faithfulness in Work)
45 The Five Guys (Listening to God)
46 Toughest Man (Surrendering Everything)
47 Cambodian Quest (Going Deeper with God)
48 What Brings Us Together (Glorifying God in Every Vocation)
These adventures follow the Brinkman family from Wisconsin who interact with missionaries in Cambodia, the Middle East, Russia and The Congo, as well as some "undisclosed" locations.  I listened to the first three episodes with my oldest son (14) and oldest daughter (17) and the majority of the other episodes myself, although my kids were in and out. Without giving away too much, here are summaries from a couple of my favorite episodes:
Summary of Episode 38 – Remember Nhu
This episode picks up the Brinkman family at family camp. Their guest speaker, Carl Ralston, opens up with a verse from Galatians 2:20, how we are crucified with Christ and how others can experience the love of Christ through us.  Carl shared how he was struggling to know that God was working through him but wasn't feeling like he was hearing from God.  Desperate, he attended a service where a missionary was speaking about a young girl from Cambodia named Nhu.  At 13, she had been born again and was in love with Jesus, but her family sold her into slavery. At that service, God spoke to Carl and said to "Remember Nhu".  Carl ends up going to Cambodia on a couple of occasions to look for Nhu. God leads Carl to people who help him on his journey.
Summary of Episode 39 – Aisha's Fear
In this story Nik Ripken (not his real name) returns from the Middle East and meets up with Mr. Brinkman to share stories of hardship, death and persecution overseas.  One story he shared was about Aisha, a young woman who was being abused by her husband.  Aisha's husband dislikes Christians and refuses to sell to them in his store.  In the story we learn that Aisha's husband has Stage 4 cancer and the doctors are not hopeful. Aisha is filled with fear.  As Nik comes to the aid of Aisha's husband during his last day, he is led to the Lord and dies a changed man.  Aisha falls more in love with Jesus due to her husbands salvation, but meets persecution and fear of imprisonment for her faith.
Final Thoughts
Overall, we really enjoyed these audio dramas. They are filled with real life stories that share about overcoming fear, hardship and impossible situations. In every one, God is the victor and lives are changed.  They helped to reinforce how important the position of a Missionary is in today's world.

If you are looking for a way to bring missions into your homeschool, consider
Brinkman Adventures
. You and your children will have hours of sound, real-life stories with which to help aid in your discussions about missions.
Be sure to click on the banner below to read what others are saying about Brinkman Adventures Season 4.