Now that my children are grown, most of my crafting time is spent with my grandson, who is just two years old.  While I enjoy creating with him, I don't always like cleaning up the mess.  Over the last several weeks, I've had the opportunity to review the Thin Stix Creativity Pack by The Pencil Grip, Inc.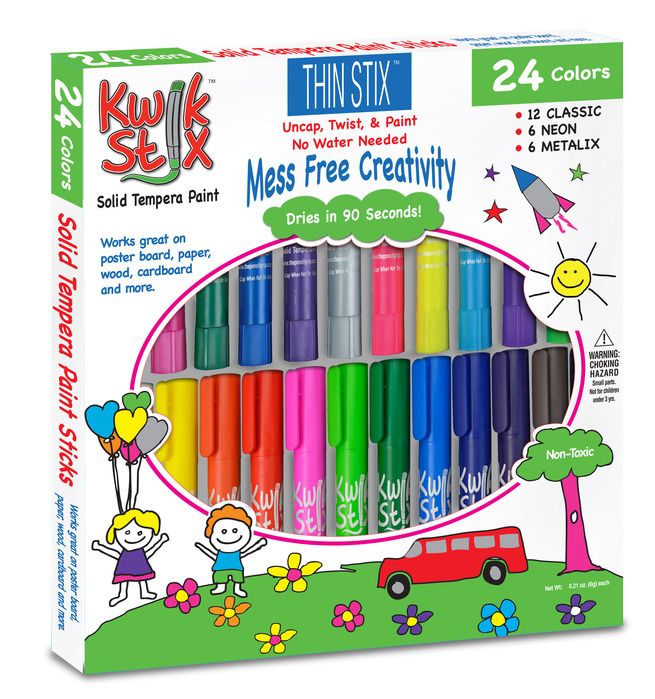 Kwik Stix products are solid tempura paint sticks that are mess free. Yes, that's right, mess free.  Normally when you use tempura paints you need a paint smock, water cups, brushes and paper towels. But with these products, all you need is the paint sticks and your art material of choice.  Similar to glue sticks, you just uncap them and twist and you are ready to paint.  These paint pens work great on regular paper, card stock, wood (to name a few) and they dry in just about 90 seconds.  Although the recommended age range for this product begins at age 3, my two year old grandson absolutely loves them!
The Thin Stix Creativity Pack comes with 24 pint sticks, which include 12 classic colors, 6 neon and 6 metalix colors.  I absolutely love this set because it has the different types of colors and so many of them.  You can create anything you want and always have the right color and style at your finger tips.  Unlike some of the other Kwik Stix products which are thicker, the thinner paint sticks included in this pack provide lots of flexibility in project creation.
As we are nearing Thanksgiving, I picked up a couple of wood items at our local craft store for my grandson to color.  The pens are perfect for his little hands to hold.  On this particular day, my grandson wasn't really into coloring so it was hard to get him to cover the entire project. We plan to try again to get these done for him before Thanksgiving.
The other thing I picked up was a wooden Christmas tree and decided I wanted to be like a child and color.  I found the paint to go on the wood very smooth.  I only had to wait about 90 seconds for the base green to dry before I decorated the tree, with the help of my grandson.  For this project, we used a combination of both classic and metalix colors.
We love all of the Kwik Stix poducts made by The Pencil Grip, Inc.  In my previous review of The Kwik Stix 12 pk, my son used mostly cardstock and the classic colors included in the pack to create a banner of the Solar System.  In my review of Thin Stix 6 pk of Classic Colors, we had fun introducing my grandson to his first encounter with mess-free painting.
If you and your children love to craft, make sure to check out The Pencil Grip, Inc. and all of their Kwik Stix products. There is something there for everyone.
Would you like a chance to win a Thin Stix Creativity Pack? The folks over at The Pencil Grip, Inc. are offering one of my readers a chance to win.  All you have to do to enter is leave a comment on this post telling me what your favorite crafting project is and I will draw a winner at random on Friday, November 17th at 9PM (PST).
Be sure to check out what other reviewers have to say about this amazing product. Just click on the banner below.