I'm excited to say that I've entered a  new era in my journey with the Lord.
I've become a Nana!
My oldest daughter,  Alyssa, and her husband, Anthony, welcomed Eli Christopher to the world on Saturday, April 18th. He is just perfect and my heart is bursting with joy over his life. Call me biased, but have you ever seen a more perfect and beautiful baby?
I cannot believe that this precious treasure will be a month old already this coming Saturday.
I am grateful to God for Eli's safe arrival into this world, and for His hand of protection over Alyssa during her pregnancy and labor.
I am thankful for the opportunity to share my gratitude posts on my blog once again. I started, and stopped, and started and stopped again.  If there is one thing I've realized walking through various seasons of life, it's this:  [tweetthis]There is ALWAYS something to be thankful for.[/tweetthis] So I'm going to come here, every week or two and share one, two or several things that I am grateful for. It may be in word or photos, but it will be those things that cause my heart to overflow with gratitude to my Savior.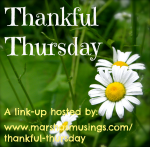 I'm